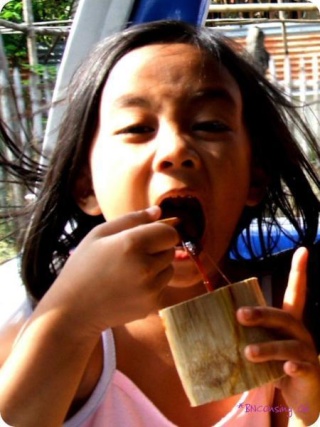 Indulge yourself in something good this summer. Have a happy bite. Wuhooo

As I nibble another chunk of some dark chocolate that I had grabbed from the fridge awhile ago, I canít help but think: oh, this is good. So good that if I keep on nibbling more chunks of this, Iíd say hello to another summer bummer mode again.
While others had kicked off their Summer 2009 with different versions of summer adventures such as beach escapades slash out of town trips, retreats slash religious recollections, youth camps, summer workshops, summer reunion gimiks, and not to mention the dreaded summer classes, I kicked off mine with a thanksgiving party for a friend of mine.
At times, Summer may seem like a random moment.
Now hereís a scenario:
Setting aside school anxieties and/or unresolved issues, you grow bored. Then, on one fine afternoon, you check your
Friendster
account (some online network account used to socialize with other people) and found out that youíre invited to a party. Your friend said heíd go on a tantrum if you wouldnít go to his so-called party. Free food, free booze, and a fine time to reunite with some old friends, now who are you to refuse? So off you went to the venue to
par-tey
. The food was great, the drinks were good, the people were cool, and the party was hoppiní --until you all had to go home. A few days later, youíve figured, the department wouldnít allow your inexcusable uncompleted workload for the past semesters ever since youíve stepped into ďtheirĒ turf. Although most people you know wouldnít agree to it, you pondered on the thought that youíll decide to not go into summer school because youíll comply all of them before this summer ends. By a twist of fate, you received some news that your Gramps had passed away so.. You felt a little bit of a guilt because he was one of the few who used to tell you to kick a** in school and in life. So off you went back to your departmentís office again to somehow try to resolve the situation to get back into school.
Tick tock tick
.. goes the wall clock on your departmentís office; Still you couldnít catch a glimpse of your target professors. And when you did get to talk to them, they tell you the same thing that youíve been hearing all over again: comply all the incomplete requirements in ALL of the subjects youíve had incurred an INC grade. They have a point but youíre somehow on a desperate situation because.. Your fatherís going home from work and it worries you if he finds out you havenít been doing good in school. You tried to strike a compromise --again. You rehearsed lines in your head in order to get that uhmm.. Third chance ( or was it the fourth?). You wait.. And wait --until you grew bored. Although your course mates tell you to not lose hope, you, on the other hand, had lost the enthusiasm to further pursue the senseless chase to try and save whateverís left to save. So you went home, ďfreshened upĒ a little bit, ate some food, had some updates online, prepared to sleep, and brood a little bit about life until off you went to dreamland. You wake up late the next day. It rains. And so did the following days. So off you go on to snooze mode every time the alarm clock in your cellphone goes on. Every single s***** day, this oversleeping plus the ďbum lifestyleĒ (do nothing but waste time) goes on and on like a cycle.
What a bummer.
bum∑mer [bķmmər]
(plural bum∑mers)
n (slang)
1. annoying thing: something annoying or unpleasant
2. flop: a failure

[Mid-19th century. Probably < German Bummler "idler, layabout" < bummeln "stroll or loaf around"]
Now now now.. As they say,
if thereís hope, thereís happiness
. So letís turn that bummed expression into something more like.. Happy. Are endorphins (natural happy substances found in our bodies) hard to produce? Hmm.. Not if you make a move and be more active in life.
So, besides of beach escapades, city tours, weekend
chillaxx
sessions, adrenalin rushes from sports trips this summer, what else? What are those that keep you busy.. This SUMMER?
We gotta remember, time doesnít wait for us. And I guess.. nibbling on chunks of dark chocolate wouldnít really put me into summer bummer mode --unless I allow myself to indulge on it most of the time (Bwahaha). Anyway, might as well make the most out of this summer with few other things.
P.S.
SADYAHUN TA INEH!!
Wuhooo