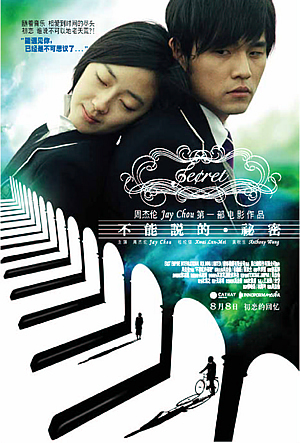 Gin click ko lng kay gwapa ang chik pero santang ga tanaw ko nami ang story
eheheh, stig ang piano nila di... love story cya pero ang Plot sang story nami...

PLOT
Ye Xianglun, a music student majoring in piano,
transfers to Tamkang (Danjiang) Secondary School. It is a school famous
for musically talented students, especially for those who play piano.
On the first day of school, as he wanders through the piano building,
he hears a mysterious melody being played that leads him to Lu Xiaoyu,
another piano major. When he asks her about the song she was playing,
she tells him that it is a secret that cannot be told. The two develop
a relationship that is clouded in mystery. When Xiaoyu disappears,
Xianglun finds that Xiaoyu is actually a girl from 20 years before
(1979). Xiaoyu teleported to the present by a piece called "Secret"
that she played on the piano. She falls in love with Xianglun, but
their barrier is that, in the present, the first person she sees
everyday is the only person that can see her. When Xiaoyu was misled
that Xianglun liked another girl, she went back to her time, 20 years
ago. Xianglun finds that Xiaoyu dies 20 years ago when she tried to
communicate to him. Using the piano, he goes back in time, by playing
the "Secret" piece which Xiaoyu had taught him earlier, to save her.
The last scene is when the 1979 Tamkang (Danjiang) Secondary School
graduation picture is taken, which Xianglun and Xiaoyu appear in.
PART1
PART2
PART3
PART4
PART5
PART6
PART7
PART8
PART9
PART10
ENJOY